FIRST IMMAGINARIA ITALIAN SHORTS COMPETITION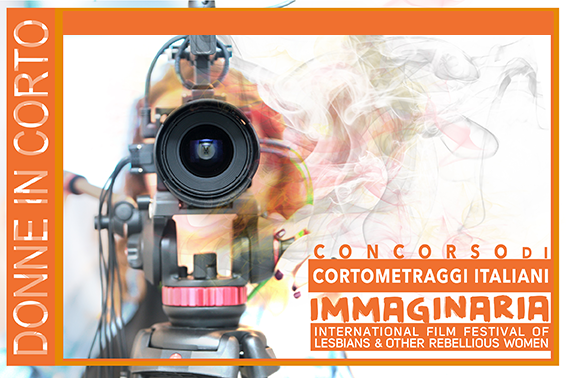 IMMAGINARIA is the first International Independent Film Festival in Italy with a lesbian and feminist theme. It was founded in Bologna (1993) by the Lesbian Cultural Association Visibilia.
For 25 years our goal has been always the same: narrating lives, culture, art and politics of present and past, lesbian, feminist, bold and rebellious women, committed to building a different world.
Immaginaria narrates those women through the eyes of independent female directors, offering a film selection from all over the world, whose authors are women. But, first of all, we would like to discover stories from our country, to launch them on an international scene.
In order to promote the independent female filmmakers and directors production and their works diffusion, Immaginaria launches "Donne in Corto" ("Women in Short"), its first Short Italian Contest, dedicated to shorts with a lesbian or feminist theme.
The selected shorts (see Guidelines) will be projected during the 13th Festival edition in Rome, from 27th to 29th April, 2018, and then proposed inside the international LGBTQ Festivals circuit, with the "Immaginaria Official Italian Shorts Selection Prize".
Moreover, during the Festival, a dedicated Jury (see Guidelines) will award the "Donne in Corto" Special Prize of 500 Euros to the best short.
GUIDELINES
The admission to the Competition will be made through the general selection by the Festival programming team. Selected shorts will then be projected during Festival time and judged by a dedicated Jury, composed by Rome Cinema Schools students.
The awarding for the Best Short will take place during the Closing Ceremony.
The Competition is reserved to female directors who propose lesbian or feminist theme in their work.
Only unpublished works may take part in the Competition. The works, although born in Italian, will have to submit Italian subtitles.

Deadline for submission: March 15th, 2020
Running Time: 20 minutes max.
Please, send a digital link to a preview file, synopsis and photos, following the instructions given in the Subscription Form.
If selected, the screening format must be:
HD DVD (High Definition DVD), BLURAY or High Definition digital file HD ProRes 422.